Use Your Adelphi Discount on Apple/Mac Products
Learn how to get the best value on your next Apple purchase.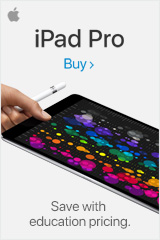 The Adelphi Apple site offers specially negotiated savings for Adelphi students, faculty, and staff that go beyond the standard education discount. In order to access the store, you must be logged in to Adelphi's eCampus using a valid username and password. This ensures a private online store that features a full range of hardware, software, and peripherals at affordable prices.
Important notice: By entering the Adelphi Apple site, you will be leaving the Adelphi University website. If you visit the Apple site you will be subject to its terms of use and privacy policy. Adelphi is not responsible for your transaction or for service to hardware or software purchased on the Apple site. Please contact Apple for questions regarding your purchase.
---
Minimum System Requirements
Adelphi has prepared the following recommended system packages for our students. Shop Adelphi's Recommended System bundles with education pricing on the Apple site.
---
21.5-inch iMac with Apple Care
 Specifications:
1.6GHz Processor
1TB Storage
1.6GHz dual-core Intel Core i5 processor
Turbo Boost up to 2.7GHz
8GB of onboard memory, configurable up to 16GB
1TB hard drive1
Intel HD Graphics 6000
1920-by-1080 sRGB display
---
15-inch MacBook Pro
Specifications:
2.6GHz quad-core Intel Core i7 processor
Turbo Boost up to 3.5GHz
16GB 2133MHz memory
256GB PCIe-based SSD1
Radeon Pro 450 with 2GB memory
Four Thunderbolt 3 ports
Touch Bar and Touch ID
---
13-inch MacBook Pro
2.0GHz dual-core Intel Core i5 processor
Turbo Boost up to 3.1GHz
8GB 1866MHz memory
256GB PCIe-based SSD1
Intel Iris Graphics 540
Two Thunderbolt 3 ports
---
Program Eligibility
Purchases must be made through the Adelphi Apple site in order to qualify for promotional pricing. Purchases made directly through the Apple site, retail store locations, and other sites selling Apple products do not qualify for educational pricing. You can have your purchase delivered to your home address or to your campus post office address if you are a student residing on campus.
An eligible purchaser is any of the following:
Student: Any individual enrolled in a course of study leading to a degree or certificate from Adelphi.
Entering Student: Any individual who has been accepted by Adelphi and who has responded by stating his or her intent to enroll in the institution. These individuals must also have access to Adelphi's eCampus portal with a Universal ID and password.
Faculty: Any faculty member of Adelphi.
Administration/Staff: Any Adelphi staff member who directly furthers the institution's academic mission and is not temporary, employed as a contractor, or acting as a consultant on behalf of the institution.
---
Qualifying Purchases
The Adelphi Apple site discount may be applied to a limited quantity of products per individual, during each academic year at Adelphi. A combined quantity of two (2) each of the following may be purchased according to the criteria specified below:
Desktop computer: One (1) may be purchased per academic year;
Mac Mini computer: One (1) may be purchased per academic year;
Notebook computer: One (1) may be purchased per academic year;
Display (monitor): A maximum of two (2) may be purchased per academic year
Software: A maximum of two (2) per software title may be purchased per academic year.
---
Need some help?
For general guidance about buying a computer, and to make sure your purchase will be compatible with Adelphi's network, see the Purchasing Guide assembled by the Adelphi IT staff.
If you are a member of the faculty or staff and need a new computer for Adelphi work purposes, please go to the Departmental Purchases site for information.
Follow