Google Drive Client
---
Through your Adelphi Gmail account, you can use Google Drive to organize, edit and share your files from any computer or mobile device.
What is Google Drive?
Think of Google Drive as your personal stash of files and folders that follows you wherever you go—it lets you keep everything and share anything. With Google Drive, you can access files, folders, and Google documents (such as Docs, Sheets, and Slides) from a web browser or any mobile device where you've installed Google Drive.
How do I try out Google Drive?
How much storage do I have for my Google Drive files?
When using your Adelphi.edu email address, you have unlimited storage to use for Drive, Gmail, and photos.
If you are using a personal email address, you have 15 GB to use for Drive, Gmail, and photos. If you need more storage, you can purchase additional storage on your own. Do not use your Adelphi email for personal use.
Important Notice to Faculty and Staff:
Your Adelphi Google Drive account is intended for Adelphi work purposes only. Use a personal account to store any files not related to Adelphi (personal email messages, photos, documents, etc). If your employment at the University ends, you will not be able to access your @adelphi.edu Google account. Faculty granted emeritus status would retain access to google drive after retirement.
How Google Drive for Mac/PC works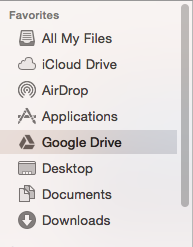 When you install Google Drive for Mac/PC, a special folder called Google Drive is created on your local computer. This folder syncs bidirectionally with Google Drive on the web. When you move files to the Google Drive folder on your computer, those files are then also available in your online Drive. If you make any changes to these files, those changes reflect in Google Drive on the web, and also across any other computers or mobile devices you're using with your Google Drive account.
Similarly, if you add files to your My Drive folder in Google Drive on the web, those files also appear in your local Google Drive folder and sync to all your Drive-enabled devices. If you don't want to sync everything in your online My Drive folder, you can use the Google Drive for Mac/PC preferences to specify which folders to sync.

Your local files (not created with Google web-based editors like Docs, Sheets, or Slides) continue to be stored on your local machine, and also in the cloud. When updated anywhere (from any computer), these files update both locally and online.
Online documents created by Google Docs editors (such as Docs, Sheets, and Slides) appear in the local Google Drive folder as small files with Google file extensions (such as .gdoc, .gsheet, .gslides). These files are essentially just pointers to the online documents, and when opened on the local machine, the Google Doc, Sheet or Slide displays in your default browser. Your Docs, Sheets and Slides don't count towards storage quotas.
Google Drive for Mac/PC supports only HFS+ (on OS X) and NTFS (on Windows) file systems. There's currently no support for network volumes (e.g. SMB or NFS) or other file systems, such as FAT32.
Install the Drive plug-in for Microsoft Office
The Drive plug-in for Microsoft® Office allows users working in Word®, Excel®, PowerPoint®, and Outlook® to open documents directly from Google Drive, and save to Google Drive, without leaving their Office programs.

To use the Drive plug-in, it must be installed on users' computers. As a Google Apps administrator, you can also set up automatic updates for the plug-in and monitor usage.
Sharing with Google Drive
You can share files and folders with people and choose whether they can view, edit, or comment on them. You can share with:
Google Drive, Docs, Sheets or Slides

A link or email attachment
Note: To edit Microsoft Office files with others, you'll need to convert them to Google Docs, Sheets or Slides.
Levels of access:
When you share a file with other people, you choose what they can do with the file. You can always change your mind or stop sharing completely. Choose if others:
Can edit

: Others can make changes and share a file with others. The default for sharing with specific people.

Can comment

: Others can view and comment on a file but not make changes. You cannot comment on a folder.

Can view

: Others can open a file but not change it or comment. The default for link sharing.
It is possible to share files with specific people, or you can create a link that gives access to anyone with that link (this makes it easier when sharing with many people, as you don't have to type in all email addresses individually). Additionally, you can make a file public and allow for anyone to view, comment or edit that file. Sharing your files is easier than ever with Google Drive.
Where can I get more information?
To get started with Google Drive, visit the Google Apps Learning Center.
The information on this page was obtained from support.google.com