AU2GO Mobile App
---
AU2GO is a native app accessible from iOS and Android smartphones, tablets, or other mobile devices, including the Apple Watch. It provides important information at the fingertips of Adelphi University students, alumni, faculty, staff and visitors.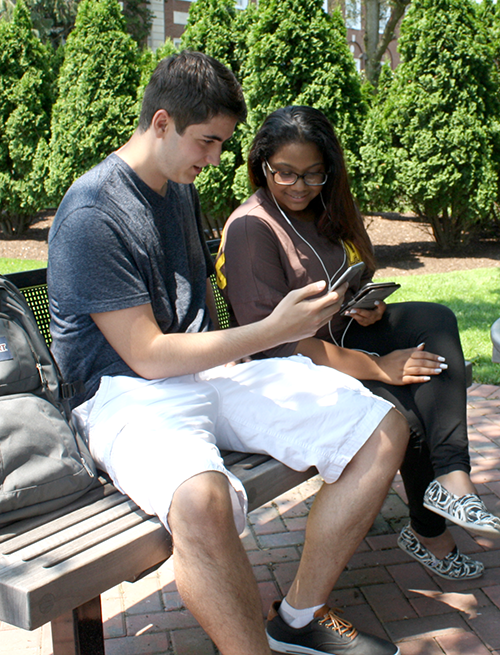 ---
AU2GO 4.4 New Features
Campus Map Update: All-Gender Restrooms can now be located easily on campus map
PCounter Print Balance: Manage print balance and pay by credit card
---
How to Download AU2GO
You can download the AU2GO app from Google Play or the iOS App Store.


---
Homescreen Services
Academic Calendar – Calendar of important academic dates
Athletics – News and upcoming games
Bulletin – 2017-18 Bulletin
Community Partnerships – View restaurants, businesses and attractions that have partnered with Adelphi for discounts and incentives
Dining Services – Hours, locations and menus for dining services on campus
Directory – Department and staff directory
eCampus – All password protected services are now conveniently located behind one eCampus tile (more information below)
Emergency Contacts – Provides quick access to University emergency and weather advisory phone numbers
Library – Various services offered by the library, all under one tile (more information below)
Map – An interactive campus map with information about buildings on campus
Message Center – View all of your notifications
News & Events – University news and upcoming events
Panther Pride – Panther Sprint game, Mascot Melt Shop game and stickers with "Put a Panther On It"
Performing Arts – Tickets and upcoming events for AUPAC
Shuttle – Shuttle Schedules and Panther Tracker
University Tickets – Buy tickets for upcoming University events
Visitor's Guide – Information for visitors 
ecampus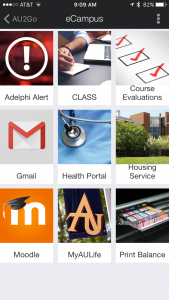 Adelphi Alert – Allows users to edit their RaveAlert settings
ADP iPay and eTime – View your earning statements, tax forms, etc.
CLASS – Mobile version of CLASS
Course Evaluations – Mobile version of Course Evaluations
Gmail – Student, Faculty and Administrative email
Handshake – Search jobs and internships on the mobile version of Handshake.
Health Portal – Access to individual Health Service appointments/records
Housing Service – Access to room reservations/room selection
Maintenance Repair – Submit repair requests to Facilities and include pictures from your phone to better illustrate your issue.
Moodle – Mobile version of Moodle
MyAULife – Student Organizations
Order Transcript – Order your official transcript
Print Balance – View your current print balance
Library Resources
Search for Books, Articles, and more – OneSearch BETA
Guides & Tutorials – Library guides for specific departments or classes
Today's Hours – Hours for the Library, Manhattan Center, Hauppauge Center and Hudson Valley
Ask a Librarian – Library contact information for specific questions
Contacts – Contact information for departments within library
Floor Maps – Visual map of library and offerings of each level
Study Sessions (created by winners of the Library Hackathon) –  Organize study sessions in the library based on a location on the library map
Extra FEATURES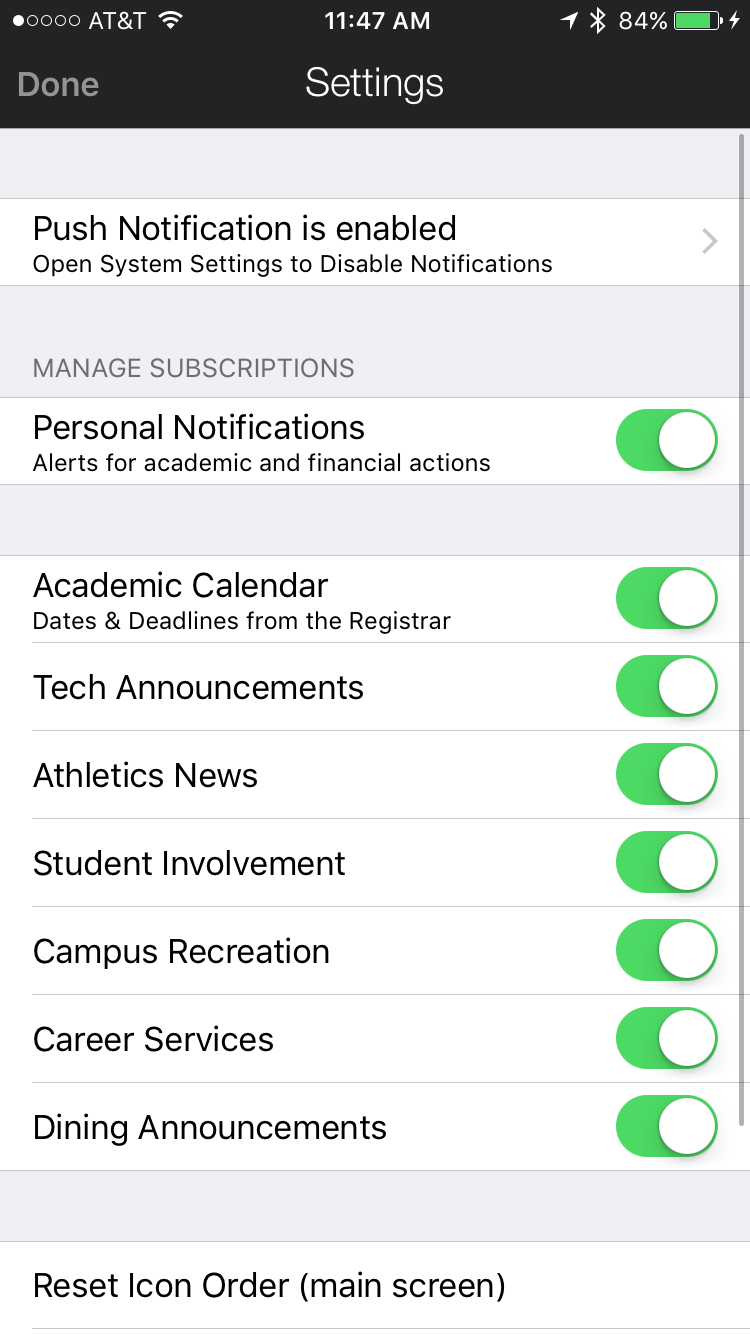 Digital ID Card – Can be used in the library to check out books (Service Desk) and equipment (Help Desk). You can also use it to pay at campus dining.
3D Touch – Users with an iPhone 6s or newer can get a context menu preview of the 4 most popular titles within AU2Go.
Sortable Tiles – The home screen will start out alphabetical but you have the option to sort them in any order you would like. 
Customizable Background – You can choose from a selection of Adelphi backgrounds for your home screen. 
Apple Watch Directory – Search Adelphi personnel and make a phone call directly from your wrist. 
Lock Screen Icon – Since AU2Go is geographically linked with the Adelphi University campus network, when your iPhone (iOS 8 or newer) senses that you are within proximity it will add an icon to your lock screen to suggest using the app.
Maintenance Repair Requests – You can submit repair requests to Facilities and include pics from your phone to better illustrate your issue.
Order Official Transcripts – You can now order your official transcript using your phone or tablet.
Handshake for Career Opportunities – Now you can search jobs and internships on the mobile version of Handshake.
Mascot Melt Shop – Play a new stacking game creating sandwiches at the Melt Shop.
Account Management – Log in once and have access to everything, including seamless switching between your student and employee accounts.