Panther Express Shuttle Tracker
---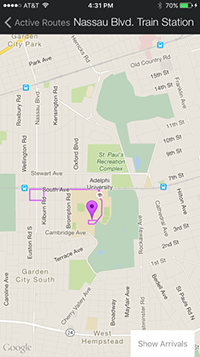 Panther Tracker is a feature of the AU2GO mobile app. The Panther Tracker is currently being used to track Panther Express shuttle bus routes in real time for the following routes:
Garden City Community Pool Parking
Mineola LIRR station
Nassau Blvd LIRR station
To access the Panther Tracker, first download the free AU2GO app on your Apple or Android phone or tablet from the iOS App Store and Google Play Store.
When you open the AU2Go App, click the Shuttle feature. On the next screen click Panther Tracker and then choose the route you want to view. On the map screen you can hit the refresh button to update the real-time results.
For scheduled times of other routes, please use the "Shuttle Schedules" option on the AU2GO Shuttle feature for a PDF listing.