eCampus Intranet Sites
---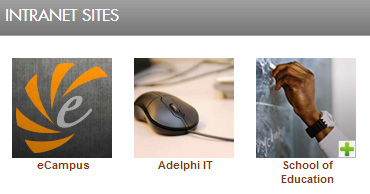 Specialized Intranet sites hosts information that is available only to the Adelphi community. Some will be visible only to certain groups, such as majors of specific academic departments. The Intranet sites contain content that is of particular interest or necessity to that group.
Some types of groups that might have dedicated Intranet sites include:
Schools and Academic  Programs (e.g., University College, School of Education)

On-campus organizations, centers, and services (e.g.,  Libraries, Information Technology)

Demographic groups (e.g.; Getting Started  for New Students)
---
Adelphi community members are automatically granted access to certain Intranet sites based on relevant criteria attached to their user information. Intranet content is managed by administrative members, and can be delivered on one or many pages using some or all of the following tools and services:
News postings and announcements

Dedicated message boards

Blogs and wikis written by members and/or administrators

Links to important file downloads or external resources such as related websites or pages on social networks.
To inquire about adding an Intranet Site for your department, please initiate your request with the Help Desk.