3D Printing
---
The 3D Studio in Swirbul Library features both large and small scale 3D printers and work stations for scanning, editing and modeling for 3D projects. This innovative resource will advance the University's teaching and research goals to further Adelphi's recognition as a center of intellectual and creative activity and promote student success in a range of educational goals.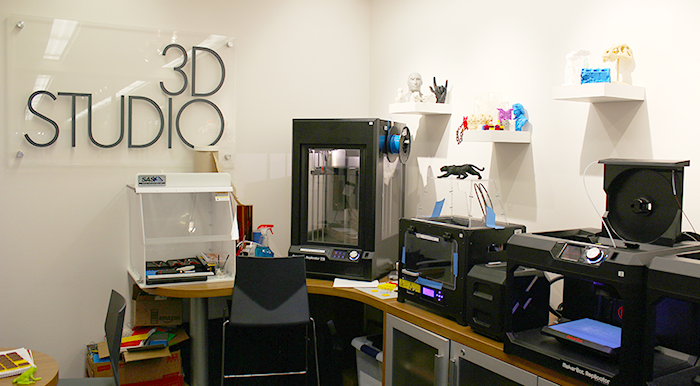 ---
3D Services Available
The services of the 3D Studio are available to all Adelphi University students, faculty and staff. Scanning and printing services by our staff are available during operating hours and are by appointment only. 3D modeling and editing can be done during open library hours in the Information Commons on the 2nd floor of Swirbul library.
3D Printers

Two Makerbot Z18 large-scale printers
Two Makerbot Replicator 5th Generation printers
Flash Forge printer

3D Scanning Equipment

Two Next Engine 3D scanners

Workstation and supplies for cleanup

3D Modeling/Editing/Design Software

Autodesk Meshmixer
Autodesk 123D Design
Makerbot Desktop
Rhino
Sculptris
SketchUp

Technical support from IT staff
---
Location
The 3D Studio is located on the first floor of Swirbul library, just past the Access Services desk.
---
Hours and Consultation Appointments
During the spring and fall semesters, the 3D Studio is open: Monday-Friday: 10:00 a.m.– 4:00 p.m. or by appointment.
If there is no staff member in the studio, please go to the Help Desk on the 2nd floor to request assistance.
Users can come in when the studio is open and work with the software, however, all scans and prints will be processed by IT staff following a one-on-one consultation. Self-service is not yet available.
Important Note: Before you submit your request for 3D printing, please make sure that your project or expectations do not conflict with our Terms of Service.
» Request a consultation or ask a question
» Frequently Asked Questions
---
Costs
Editing: No cost to use software, self-service with assistance available from staff.
Scanning: No cost, performed by IT staff by appointment.
---
Acceptable File Formats
Files need to be in one of the following formats that is supported by the printing equipment: .stl, .obj or .thing. Files should not exceed 25MB.
---
Workshops
We offer introductory as well as advanced workshops to accommodate different levels of 3D expertise. If you don't want to wait for the next workshop date, schedule an individual consultation to discuss your ideas.
---
Photos
Follow our Instagram @adelphi3D for photos of current projects and equipment. 
---
Time-Lapse Videos of 3D Printing at Adelphi